It is not too late to take another path.
Hello followers,
The beginning of a new year inspires us to start new beginnings and make changes in our life, but this inspiration should continue throughout the year, and not evaporate after a few days or weeks.
For Dan and me, it's a lifestyle change, that we continue to incorporate in our everyday life.
There are certain skills, habits, and traits of character that you need to possess, and a few steps to follow,
You need to learn to make wise resolutions, based on common sense and facts, not emotional resolutions, which you might discover a little while later to be impractical, or that you are not interested in them.
It is frustrating and a waste of time and energy to make resolutions and plans and then quit them.
If you repeat this behavior often, you teach your subconscious mind that you are a quitter and that you should not expect much from yourself.
What can you do to persevere with your resolutions?
What steps do you need to take?
In the upcoming posts, Dan and I will share a few important steps and action you can take, to ensure that you will carry out your resolutions and plans.
This new year Dan and I will be continuing the book, Ten-Minute Relaxation, For Mind and Body by Jennie Harding, until the end.
Whenever you are feeling under pressure, ten minutes is all you need to relax totally, using tools that are always with you; your senses.
This book is packed full of wonderfully simple ideas and exercises for using sight, taste, smell, hearing, and touch and that vital sixth sense of intuition to rebalance your energies and bring you back into harmony with the natural world around you.
Identify your favorite sensory relaxation solutions and combat that stress!
Per Dan and my experience this is another component in keeping ourselves healthy, meditation.
By using your five senses, you can learn to relax in just ten minutes.
CHAPTER 2; THE SENSORY JOURNEY; TOUCH
TOUCH THE ESSENCE OF CARE-
SWITCHING ON THE SENSE; BABY MASSAGE SEQUENCE
Ten-minute exercise-
1. Make sure your hands are warm when you start. Try lying the baby on its back to begin with. Engage his or her attention with sounds and smiles. Put one teaspoon of your chosen blend into your hand, then very gently apply to the abdomen in small, circular motions.
2. Spread your movements up the chest and over the shoulders, making little circles with your fingers as you go. Then down the arms and to the hands, onto the legs and down to the feet.
Really pause on the hands and feet and enjoy massaging the tiny palms, soles, fingers, and toes.
3. Gently turn the baby over and apply half a teaspoon of the blend onto the back, smoothing it over the skin from the shoulders to the buttocks. Always keeping your movements circular and flowing.
4. Take the circular movements down the backs of the legs to the feet. Then stroke down the whole body to finish. Cover the baby to keep lovely and warm.
Elements of this massage routine can be used to calm your baby in stressful moments.
The downward stroking on the back is particularly effective, bringing the security of your touch to the very sensitive nerve endings along the spine itself.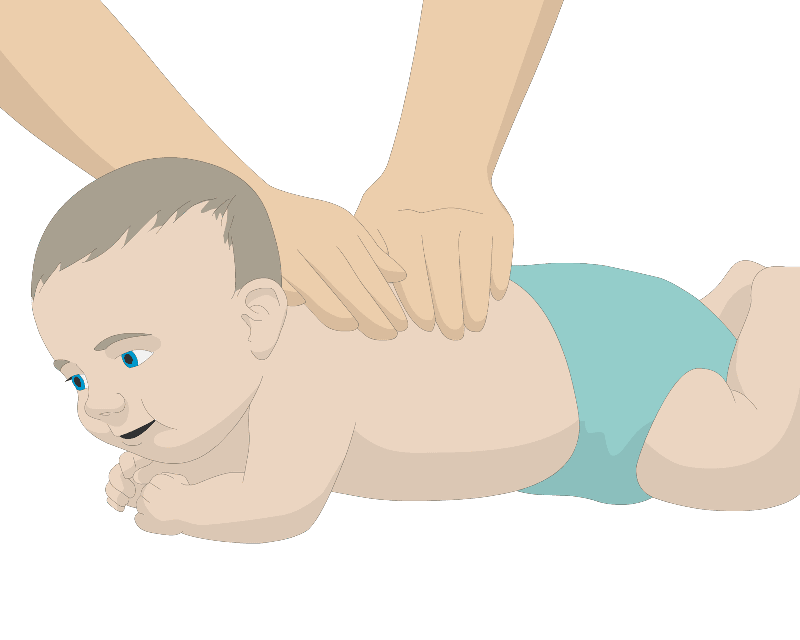 The important thing about your touch is that it should be sensitive but also confident, with warm hands communicating a sense of safety and peace.
Tomorrow, ACUPRESSURE FOR STRESS RELIEF
As Dan and I start a new year; we will be posting daily 365 morning meditations for joyful days all year long.
The book is SUNRISE GRATITUDE by Emily Silva.
January 3rd
SUNRISE IS SUCH A BEAUTIFUL EVENT.
To think that the earth rotated around the sun long enough to offer a sunrise every day is amazing.
When you awake before the sun, you are fortunate to be able to catch the first light of a new day.
As dawn arises, notice the colors of everything that is becoming illuminated.
Notice how you awaken as the light enters your eyes.
Breathe in appreciation for the opportunity to experience the exquisiteness of another sunrise.
The PHRASE TO REMEMBER; Health is Wealth.
We stand by this and continue to do daily; walk, meditation, and Qigong.
If you would like to follow with us; hash tag words #walk, #meditation #Qigong on the right of the main blog page.
Until Wednesday, no one saves us but ourselves. No one can and no one may.
We ourselves must walk the path.